Professional web newspaper in no time

Textalk WebNews is a system for Internet based newspapers. The principle is easy - In no time at all you can create your own web newspaper on-line. Textalk WebNews is a very poweful tool. Your newspaper will hold the same high quality as any professional newspaper on the web.



Textalk WebNews features
Publish an unlimited number of articles
Illustrate your articles with images
Group articles in different sections
You can choose size, colors and logo so that your newspaper fits your actual graphical profile.
Powerful search within published and archived articles.
First page articles can be presented as top news, trailers and headline presentations
Webnews is manageable and user-friendly without compromising its functionality. The tool is always available over the Internet.
Newspaper can be edited by several collaborators. The collaborators can be equipped with different permissions to edit and publish within your newspaper.
Archive
The reader can send letter to the editor (with own image), tip the newspaper about any event or a friend about interesting article, take part in a poll etc.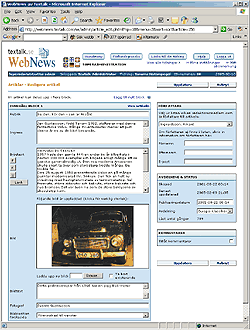 Screenshot from Textalk WebNews article editor. Click for larger image